Shou Tzu "An Eye for an 2624FG4D" Mission
Task: Help Shou Tzu give the V'rix an Eye.
Mission Recap: (L6 Explosives trade good, L8 Anthanor Athena, L6 Quark Synthesis 4)
Reward: Red Dragon Faction (+500) and Experience.
To start this adventure:
Get mission from Shou Tzu at Arx Ymir (you will be given recipe): "An Eye for an 2624FG4D"
1/3
Go see Han Ying about a bomb. (Asteroid Belt Beta)
Go to Nav Alpha-Gamma Beltway 4, he'll be on your right about 18k at the Void of Thought Maru Nav. Tell him you can build it and he will give you the schematic for the "Joyful Blinding" bomb (L1 Device)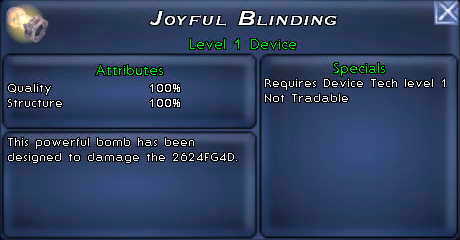 Joyful Blinding (L1 Device - Not Tradable)
-- 1 Explosives (L6 Trade Good drop item from hulks - Not Storable/Don't use WH quality matters)
-- 1 Athanor Athena (L8 Warhead drop item or player made)
---- 1 Adamentine Ore (L6 ore)
---- 1 Homerite (L6 ore)
-- 1 Quark Synthesis 4 (L6 Propellant from F7 or other L6 parts vendor)
2/3
Detonate your bomb on the 2624FG4D.
Go to Akeron's Gate Sector, 10k from the Krakow Nav.
3/3
Return to Tzu and report your success or failure.